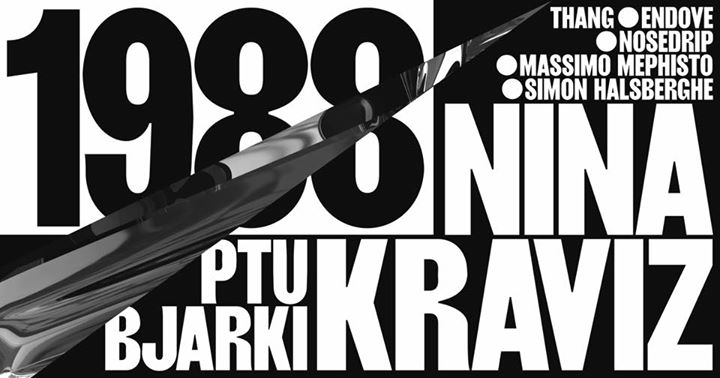 Techno, House
Zaterdag 14 Oktober 2017, 22:00
15 Oktober 2017, 6:00
Kompass

717A Ottergemsesteenweg-Zuid

,

9000

Gent

(

BE

)
Info
We're back. EDITION III.
Where: Kompass
Assembly: Nina Kraviz, Bjarki, PTU, Thang, Nosedrip, Massimo Mephisto, Endove, Simon Halsberghe
Once more in our beloved Kompass, on October 14th we invite Nina Kraviz for our third edition of 1988 techno in Ghent. In her room she'll be playing together with Bjarki and PTU. Alongside with the very talented Simon Halsberghe, Nosedrip, Endove, our very own Thang and the mighty Massimo Mephisto we have another night of epic raving ready for you, at Kompass ofcourse.
NINA KRAVIZ _ _ _ _ _ _ _ _ _ _ _
Nina Kraviz (Нина Кравиц) is one of the most significant artists in the global electronic scene.The Siberian born singer, producer, song-writer and a DJ is well known as a passionate record digger and for her outstanding taste in idiosyncratic electronic music, which lead her to create her label трип (pronounced trip). In 2015 трип was chosen a record label of the year Mixmag, following on from the huge crossover hit 'I Wanna Go Bang'. She began 2016 by hosting a monthly BBC Radio1 Residency and finished the year with a superb mix for the world-renowned fabric CD series.
The Siberian taste maker is well known for her musically uncompromising energetic DJ performances, where she plays music most others wouldn't dare and for her sincere connection to the audience. This unique feeling together with a badass attitude and charismatic stage persona have earned Nina Kraviz headliner status at all the reputable festivals worldwide. But such is her dedication to music, Kraviz is equally comfortable rocking big festival crowds as she is to work her magic in a small intimate club setting. She regularly plays the best clubs in Europe, Japan and North America - Concrete in Paris, legendary Robert Johnson in Offenbach, Air in Tokyo, fabric in London, Berghain in Berlin, Output in New York. Each summer she's greatly in demand in Ibiza where she's held residencies at the most revered clubs on the Island. With her label трип she's been producing her own unique tours and events around the globe, as well as a yearly rave in Iceland.
As a singer, songwriter and producer (with the band she spent most of the 00s touring and performing with) she was invited to participate in the Red Bull Music Academy. Her background in performance informs her DJing - from the way she deeply connects to her crowd, to the unpredictable twists and turns her sets can take, and the emotionally charged feeling she creates with her selections. Her range of sounds is astounding - from pure house music, ambient, minimalistic techno and songs, but all delivered with the unmistakable Kraviz twist.
Kraviz's discography starts in 2007 when her first 12" was released on Greg Wilson's B77 label, after Kraviz gave him a demo at the RedBull Music Academy where she was a participant.Then followed the "Voices Remix Project" and "First Time EP" on Jus Ed's Underground Quality imprint in 2008. The following year the 'Pain In The Ass' EP on Rekids as well as a few strong remixes helped to propel Kraviz onto the world stage. Alongside 'I'm Gonna Get You' and 'Pain In The Ass', perhaps her biggest track to date is 'Ghetto Kraviz', her homage to Chicago's Dance Mania label, taken from her critically acclaimed 2012 self-titled debut album. "Mister Jones" was the last EP Kraviz released on Rekids before focusing entirely on her own трип imprint where she has been regularly releasing her own music as a part of Trip's conceptual albums ( tracks "IMRV", "Let's do it", "I believe I can fly"-simple yet effective live cuts on modular were all released on трип imprint).
In 2015 Kraviz cemented her reputation as one of the worlds leading selectors releasing her critically acclaimed DJ- kicks album. She's one of the few electronic musicians to be invited to speak at the Oxford University Guild. While 2016 saw Nina praised and acknowledged in the media and industry for her curation, taste and skills - her label trip was voted the #2 label of the year by Resident Advisor and in December she released her stand-out mix for the long- running fabric CD series. Plans for 2017 include a new more experimental label - GALAXIID - to run alongside трип and new curated events in special locations around the world.
https://be-at.t...016/nina-kraviz
BJARKI (bbbbbb/IS) _ _ _ _ _ _ _ _ _ _ _ _
Bjarki is from Iceland. Born and raised. Bjarki's not a fan of boxes - in fact, if you try putting him in one he'll gleefully jump out and stamp all over it.
In 2015 you probably had him pegged as a techno artist, but in 2016 he confounded everyones expectations of his musical path (surprise breakout hit of the year followed by big room appearances playing the aforementioned hit at every set..). And instead he released three widely praised LPs 'Б | Lefhanded Fuqs | Æ' that mapped out a broad musical landscape for him - one that runs from ice cold ambient soundscapes, through melodic techno, exuberant breakbeat and on to classic rave. His final release of 2016 'Fresh Jive' placed him firmly leading the pack of international artists who in the past few years have taken a hauntological approach to re-moulding the scents of breakbeat, rave, jungle and IDM into sounds that are entirely their own.
In 2017 he founded his own label, bbbbbb Records, with his childhood friend Johnny Chrome Silver.
https://soundcloud.com/bjarki
PTU _ _ _ _ _ _ _ _ _ _ _ _ _ _ _
Alina Izolenta and Kamil Ea were born in the USSR, so the origin of the acronym PTU is embedded in the everyday life of a country that no longer exists. The duo spent their childhood in Siberia and on the Volga, and their salad days in music schools and early clubs of their respective home cities. Back then accessing the internet was only possible via pre-paid cards that came in envelopes. Music — via pirate CDs and endlessly slow mp3 downloads. Friendships would stem from copying music from hard drive to hard drive. The name PTU came to life in the middle of 00s, in a rented apartment, literally the last building in some street on the outskirts, over impromptu synth sessions with friends.
https://soundcloud.com/ptu-1
THANG _ _ _ _ _ _ _ _ _ _ _ _ _
'What a DJ does is this: he knows music. The DJ knows music better than you, better than your friends, better than everyone on the dance floor or in the record shop' (…) 'A truly great DJ, just for a moment, can make a whole room fall in love'. (from Last Night A DJ Saved My Life, Bill Brewster & Frank Broughton)
Much – too much, some might say - has been said and written about the rise and the role of the disc jockey, but in their epic, insightful and well researched history, Brewster and Broughton tell it like it is: it's the music, stupid!
But HOW exactly does a DJ make a whole room fall in love? Alas, there's no simple way to explain, even for a dedicated stalwart of Belgian night life such as Thang.
Born and bred in Ghent, a fertile breeding ground for world renowned spinners such as 2manydjs and The Glimmers, Thang offers up some key understandings: first up, you need a certain level of empathy.
A DJ must 'feel' a room, as they say. They are right.
Second, balance is key. Give and take. Teasing and crowd pleasing. No balance, no dynamic, no party.
Third, versatility. Very important, this one. A good DJ always has a plan B, plan C and a plan D. Be prepared, but also be prepared to boldly go where you haven't been before. Every weekend offers a different story.
'To be a good DJ you must develop the hunger', Brewster and Broughton write in their book. Thang agrees. The hunger to smell new flavors well beforehand, the hunger that brings water to your mouth when discovering a lost collection of dusty vinyl, the hunger to dig into the past and revive old jams. Teasing and crowd pleasing are not a question of 'or', but of 'when'. Obscure disco dubs next to high energy r&b next to slow motion techno next to Blondie next to a vintage rave classic, next to the next, rising on the horizon club banger? Anything goes, it's all about the balance. And versatility. And… You get the picture.
Over the years, since his starting days around 1998-1999, Thang has built up quite the versatile résumé. From his residency days in the once notorious now defunct Culture Club, to festival slots such as Pukkelpop, Laundry Day, and WeCanDance, to releasing and remixing tunes under the Villa moniker (together with his production buddy François Demeyer – their unofficial rework, six years ago, of Adele's 'Rolling in the Deep' racked up a staggering 4.3 million plays on Soundcloud so far), curating his personal 'Relax' playlist on 22tracks.com, and, more recently, playing petite but quality clubs such as Antwerp's Kelly Palmer, being part of the team behind the new Ghent hot spot Kompass (and it's techno concept '1988'), and landing a new residency with ABSTRKT, a collective organising art and music events in Belgium. Together with veteran promotor and onetime mentor Oliver Tjon, teaming up as Darkroom DJ's, Thang also hosts 'Luid, Vuil, Traag' ('Loud, Dirty, Slow'), a club night of slow techno, rave and a musical mish mash the duo have christened 'now beat'.
After almost 20 years tuning in to dance floors everywhere, the hunger in Thang is far from satisfied.
And so, the beat goes on.
https://soundcloud.com/thang_official
NOSEDRIP _ _ _ _ _ _ _ _ _ _ _
In the space of just a few years, Ostend-based Nosedrip – real name Ziggy Devriendt – has gone from somewhat of a now-you-see-me-now-you-don't presence on the fringe electronic scene to a firm fixture on Belgium's burgeoning leftfield landscape, albeit one that revels in his outsider status, thanks in no small part to his work with pioneering platform Stroom.tv, a unique mixture of oddball playlists and distinctive aesthetics, his staggering mixcloud following, an NTS show and, more recently, a label imprint with considerable, if not slightly tongue -in-cheek, ambitions.
https://www.mixcloud.com/Nosedrip/
MASSIMO MEPHISTO _ _ _ _ _
Massimo Mephisto is a Ghent based DJ. His main focus lies on dark Techno, exploring the drifty hypnotic beats, Massimo has his finger firmly on the pulse. His style has grown throughout the years but Techno music has never let him down and will become the key ingredient in most of his sets and studio work. Mixing up styles and moods, but always focused firmly on the dance floors' needs and desires. Massimo's sets have energy, precision and most of all heavy kicks and steady baselines.
He keeps his sets 'old skool' with his vast collection of vinyl records. Through hard work, a passion for music, a love for vinyl and an unwavering dedication to his craft, he has garnered recognition from labels like Tulipa Records (2011), Bonzai Basiks Label (2012) and remixes from Soren Aalberg and Shyam. Support was gained from Hernan Cattaneo and Guy Gerber.
Unafraid to journey off the well-worn path, he founded Kowboys and Indians together with Natalie Redee, a unique Techno concept in Ghent.
Dedicated, driven and focused, he has a passion for making music with integrity and soul. His inspirations are drawn from his experiences and continuous studio work and solo projects. At the forefront of a new generation of DJ/Producers, Massimo is simply spreading his love for music and his own interpretation of cutting edge Techno to the
party crowd and its clubs. Causing ear damage on events like Laundry Day, Kowboys and Indians, Tribes Gatherings, Liberty White, Chronicles and House Clubbing.
https://soundcloud.com/massimo-mephisto
SIMON HALSBERGHE _ _ _ _
Simon Halsberghe a.k.a Simon Hold grew up in Ghent, and now lives and works in Brussels. While he is undoubtably influenced by growing up in the city declared Creative City Of Music by UNESCO, his musical influences also come from places further afield. As a young adolescent he joined a workshop to play improvised electronic music organised as part of the Brussels European Capital of Culture program in 2000. There he came into contact with Max/MSP programming, live streaming and performing electronic music himself. He expanded his tool set to include more instruments like synthesizers, samplers and the like, with which he started forming his own musical voice. All this tinkering, programming and producing led to a few releases as part of the duo Pitch & Hold on the record label Love Triangle Music.
Also during this studies at the School Of Arts Simon Halsberghe started working as a composer, music consultant and sound designer for various fashion brands and theatre productions. He also runs the cassette label Gentle Tapes, on which he releases more intimate and experimental music as well as the award winning soundtrack he made for the animated short Kitten Instinct.
All of this should be an indication Simon Halsberghe has a broad approach to sound and music and isn't limited to one (sub)genre or application. It's this open attitude and knowledge he brings to every creative endeavor he undertakes.
For 1988 he is preparing a selection of music grounded in the physical presence of sound, that tipping point where the music almost becomes a tangible material on the edge of the familiar and the not yet known.
https://www.mixcloud.com/simonhold/
ENDOVE _ _ _ _ _ _ _ _ _ _ _ _ _
Flor De Baene, better known as Endove, has always been passionate about music. Caught by the inspirational exploration of the electronic music scene and its appalling backstages, he decided to be part of it and to start performing behind the decks himself.
This led to the birth of Endove in 2014, and a maturing sonic signature nurtured by dark, groovy but still melodic techno that takes the dancefloor audience on a heavenly journey throughout the night.
Having spearheaded club Søndag for over a year, he got further inspirited and involved in joint projects with fellows like Kortryk and Primitive People.
If warm ups and closings have no secret for him in venues such as Labyrinth Club, Café d'Anvers, Decadance, De Kreun and festivals like Cirque Magique and Voltage Festival, he also played next to big headliners like Marcel Dettmann, Paul Ritch, Alex Niggeman, Einmusik, Reboot, Monoloc, Dax J, Johannes Heil, Dense&Pika, Charlotte De Witte, Amelie Lens, Woo/York, Makam, Konstantin Sibold, Hunter/Game,... This guy certainly knows how to boost the crowd's emotions and stamina!
https://soundcloud.com/flor-de-baene
Graphic Design:
www.mapsandmachines.com
&
www.lennartvandenbossche.com
Deejay's
Nina Kraviz
Bjarki
PTU
Thang
Nosedrip
Massimo Mephisto
Endove
Simon Halsberghe
Wie zal er zijn?
"1988 with Nina Kraviz" Party gemeld door : EnriCa
---
Reacties » 1988 with Nina Kraviz