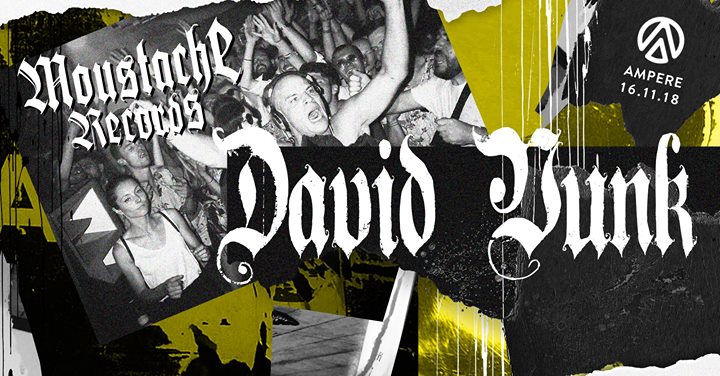 David Vunk owner of Moustache Records, DJ and Producer for labels as Moustache Records, OMNIDISC, Bordello a Parigi, Electronic Emergencies, Creme Organization, Lunar Disko and many more.


DAVID VUNK (Moustache Records) Rotterdam - extended set -
Ampere is under his total control on The 16th of November.
Featuring friends and guests to be confirmed soon.
David Vunk is the true beast of the harbor city and the main man behind the ever-playful Moustache Records. On this fine imprint, he drops his own ace tracks and collabs besides a wicked list of West-Coast honchos and synth freaks.
Known for his wide collection and graceful skills he's been rocking records since the early 90's all over Europe. and he might end up on your gig as well.
Wanna know whats'up? Check his weekly radio show 'Life is Live' on Intergalactic FM, each Wednesday night.
David 'Vunk' Versteeg (41) is in het echte leven al net zo'n orkaan als achter de draaitafels, blijkt al na vijf minuten in zijn achtertuin. Hij heeft zo'n typisch piepkort jaren zeventig-sportbroekje aan dat hij ook tijdens zijn sets graag draagt, een kapotgeknipt shirt van zijn eigen label Moustache Records en inderdaad continu een jointje tussen de vingers geknepen. Vunk draait al sinds 1992 mee als dj, maar veelal buiten het zicht van de zogenoemde dansvloerconnaisseur om. Dat veranderde in een klap toen hij vorig jaar iedereen gek kreeg met zijn set op Lente Kabinet. 'Rotterdam, Rotterdam, Rotterdam!', werd euforisch gescandeerd, elke klapper werd met gejuich ontvangen. Serieus, als je je een keertje verdrietig voelt, kijk wat filmpjes terug van die middag en je hebt direct weer zin om vooraan op een dansvloer te staan.
https://www.res...et/dj/davidvunk
https://soundcloud.com/david-vunk
DAVID VUNK (Moustache Records) Rotterdam
PRESALE
GOES VUNK
FRI 26.10 / 13:00

FU MACHU VUNK €7 euro
HANDLE BAR VUNK €8 euro
IMPERIAL VUNK €9 euro

DOORS OPEN: 23.00
DOOR TICKETS BEFORE MIDNIGHT: €10
DOOR TICKETS AFTER MIDNIGHT: €16

https://ampere-antwerp.com/tickets/
www.ampere-antwerp.com
Search Hotel
---
"A night with DAVID VUNK" Party gemeld door : Ampere PRO