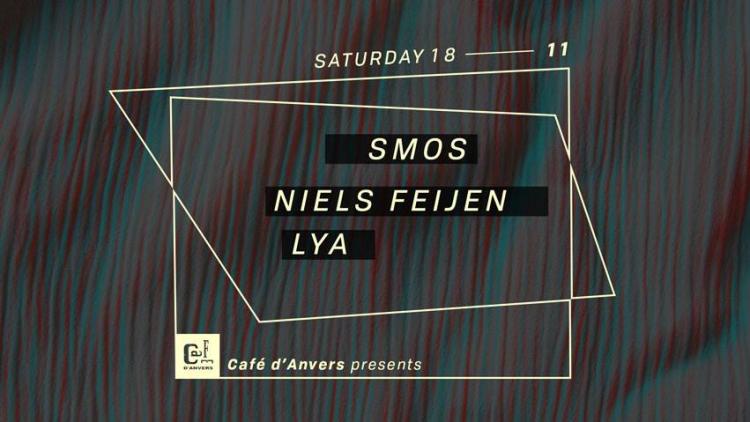 Café d'Anvers presents: Smos - Niels Feijen - Lya
15 Verversrui, 2000 Antwerpen (BE)
Techno, House
Smos

DJ Smos started his career in early '90s as a duo with DJ Baby Bee, they are considered as one of the pioneer house DJs on the Belgian music scene. They became residents at 'Café D'Anvers' in 1993, where they also played for 'Paradise' and 'Natural elements' from Patrick Socks and many other parties that were organized in 'Café D'Anvers'.

Since 1998 until 2001 DJ Smos and Baby Bee played as residents for 'Eskimo' parties in Ghent, where they did their 'trade mark' closing set in the house room. They also played at other parties that were organized by 'Eskimo' organization ( Belmondo in SMAK museum in Ghent, Culture club, 69, Diesel U awards, 'Make up' club ... ). Between January 2001 and October 2003 they were residents in the Motion room in 'Fuse' in Brussels, where they performed 'soul tech' sessions together with DJ St. Dic.They also played as a resident DJs at Café Capital in Antwerp, and on many occasions as guest DJs in all good Belgian clubs, summer festivals (10 days off in Ghent, Laundry day in Antwerp, Tomorrowland, Extrema, Dour festival, House Torhout, Pukkelpop, City parade ... ) and on the international party scene in clubs like Rex in Paris, Chemistry and Arena club in Amsterdam, 333 in London, Cuttura electronic in Italy etc.. Smos and baby Bee were voted as the best Belgian DJs at 'Ticket nightlife awards 2001' and in 2003 as 'the best national house DJs' at Belgian dance culture website 'Partyguide'.

Baby Bee stopped DJ-ing in 2010, since then Smos has been playing solo as a resident DJ in Café d'Anvers and in the Mystery cub at 'Woods' in Brussels


▔▔▔▔▔

Niels Feijen



▔▔▔▔▔

Lya

LYA enjoyed a classical music training since the age of 5. Not only was she a talent at the piano, she also entertained her parent's guests by singing for them.
She grew up listening to a blend of her mom's rock&roll vinyls and her dad's disco recordings. This followed up by her teenage interests: Hiphop.
As she grew older, the rave scene stole her heart: Henrick Schwarz, Kerri Chandler & Derrick Carter were her guides to a lifelong passion for housemusic.
While being a part of Antwerp's nightlife as a dancer in Belgium's biggest night clubs, it was only a matter of time to do her own thing. Under the supervision of the talented Niels Feijen her past & experiences all came together in something she could express herself the best: being a DJ.
She would describe her style as a cocktail of jacking house, groovy disco beats, Chicago house and a sprinkle of raw techno. A real crowdpleaser due to her natural skills to curate the crowd. A perfect blend of good music & entertainment.
You can enjoy her creative findings in hers and Niels Fejien's booming party concepts UNDER and Tell No One where she holds residence.
LYA has brought her vibe to quality events such as Tomorrowland, Ibiza Destino 2016, several local festivals & lots of residencies at Belgian's finest Club Vaag and Café d'Anvers.
Lots to come for this talent, as she brings the vibe to another level.
Main Room :
DeeJay Smos
Niels Feijen
LYA
www.cafedanvers.com
Search Hotel
---
"Café d'Anvers presents: Smos - Niels Feijen - Lya" Party gemeld door : CDA Tommy