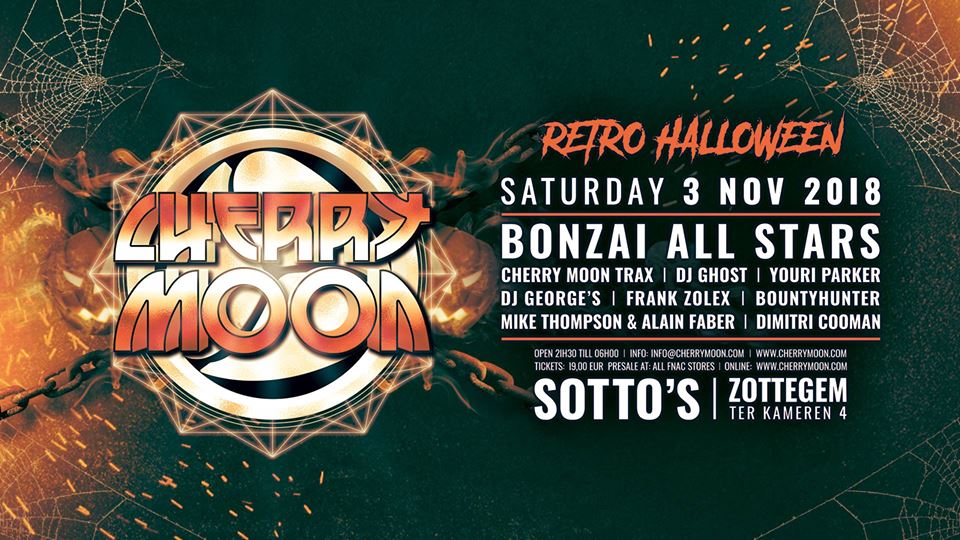 Cherry Moon Halloween Retro
Cherry Moon Halloween Retro

The original Cherry Moon Retro goes XXL

Cherry Moon Halloween Retro is still to this day the mother of all Halloween events.

This year we are bringing the biggest 'Halloween Retro' to this date on the floor.
Location for the night: Sotto's in Zottegem. Located not far from our original location, this modern and renewed location is perfect for a
shivering Halloween night.
High-end lights and a 360° led wall will bring a new dimension to our annual classic.

Special guests for the night are Cherry Moon Trax, this summer the world was put on notice that Cherry Moon is far from gone when they blew away the mainstage of Tomorrowland so it's more than fitting that they do a special 30 min of strictly Cherry Moon Classics for our partypeople.
100% Retro sounds by

CHERRY MOON TRAX
BONZAI ALL STARS
DJ GHOST (Cherry Moon)
YOURI PARKER (Cherry Moon)
DJ GEORGES (La Bush)
FRANK ZOLEX (Zolex Records)
BOUNTYHUNTER (Bonzai, Montini)
MIKE THOMPSON & ALAIN FABER (Foyer Legends)
DIMITRI COOMAN (Cherry Moon)
www.cherrymoon.com
Search Hotel
---
"Cherry Moon Halloween Retro" Party gemeld door : Cherry Moon PRO