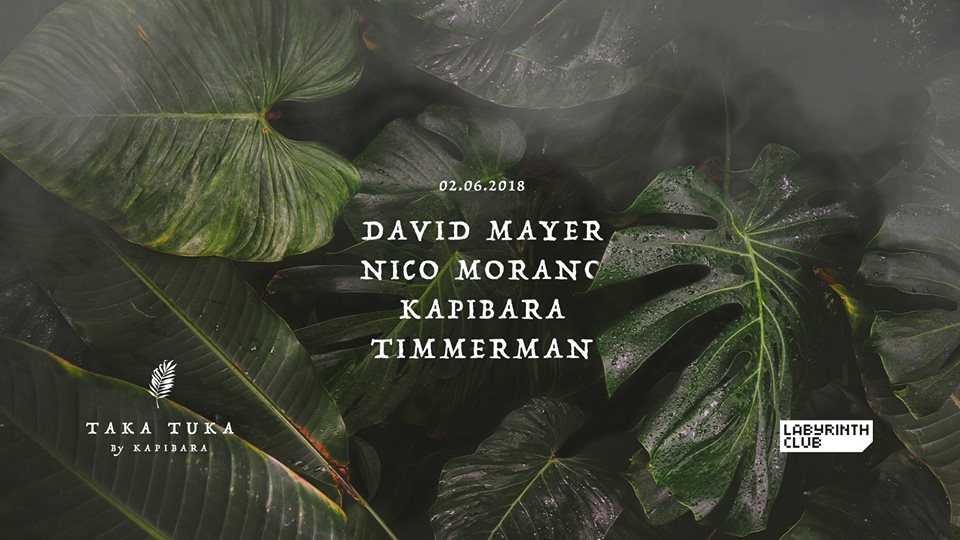 David Mayer, Nico Morano and Timmerman. Taka Tuka by Kapibara
Gouverneur Verwilghensingel 70, 3500 Hasselt (BE)
Techno, House
Crossing borders is a familiar experience to DAVID MAYER. Though being born in south Germany, he spent most of his youth living in Norway and (for a change) in Lanzarote, before Berlin happened to become his home in 2004. As a part of the Keinemusik-family from day one, his like-mindedness with fellow crewmembers Rampa, &ME, Adam Port and Reznik has shown in his DJ-sets and productions. And with Terranova, there is another close, mutually respected and biographically substantial act, David Mayer crafted several remixes for. As he prefers thinking outside the box, Mayer has always been equally interested in listening to and experimenting with diverse forms of music, no matter what musical genre they derive from, although his passion for funked up and heavily pounding 4/4 beats clearly dominates his creative output. Key-tracks like "Fortune", "Word Is Bond", "Celsius" and "Sunhole" as much as everything else, Mayer has laid his hands on as a producer, is characterized by an intriguing knack for detail and precise sound design. Both, when spinning records and producing tracks, he is presenting his own interpretation of catchyness, mixing up Techno and House, adding a little deepness, but always keeping an eye on making his audience shake some. His dedication formally found its way into several musical excursions as a ghost-/coproducer or audio engineer, before the debut was set on keinemusik in 2009. Only leaving his desk in order to indulge some serious clubbing, this guy knows about priorities. With a solid and seriously buzzing stream of output under his belt, it is always of interest, what David Mayer is up for next. www.facebook.com/SoundsLikeDavidMayer

A lot of dj's come and go in the electronic music scene. NICO MORANO is one of those exceptions who's here to stay. Nico started playing records more than 13 years ago and now still counts as one of the leading artists in Belgian House music. Through the years the sound of Nico Morano developed into one of the most sophisticated ones in Belgium. His flawless blend of deep and melodic House tunes with a strong emotional touch made him one of the busiest dj's out there. Yearly Nico plays more than 100 gigs in highly respected clubs like Fuse, Ampere, Decadance and Magic but also at big festivals like Tomorrowland, Laundry Day, Ostend Beach and Thé Dansant. As a resident of Ketaloco, Deep House Belgium and La Rocca on Sunday, he has been able to build a strong connection with his very loyal crowd. In 2016 Nico Morano will put further focus on translating all his dancefloor experience into his own productions. After EP's and remixes on labels like Atmosphere Records, Karera, Love Matters and Shaker Plates, this year he will continue releasing on some major outlets. He's working hard in the studio creating the deep and melodic sound he's so passionate about. www.facebook.com/nicomorano.official

The man with the pink cap, aka TIMMERMAN, is slowly but surely becoming an established name in the Belgian house and techno scene. After playing the opening slot at one of the many Tomorrowland stages, things quickly got more serious. He delivered mixtapes for Studio Brussel, got selected for the famous DJ-Mania contest… and won! He's a regular in most of Belgium's finest clubs such as Decadance, Forty Five, Club Vaag and Fuse. In his sets Timmerman brings lots of vibes: from disco to house and techno, mixing them smoothly, always remaining a strong connection with the dance floor. And by his great festival summer and tons of impressive bookings ahead, the future is looking bright! www.facebook.com/timmermangent

Hailing from the Amazone riverbanks in South-America but stationed in the South of the Netherlands: meet KAPIBARA. This semi-aquatic trio is known to infuse their cultural heritage when creating electronic dance music in the studio together. Kapibara's signature sound floats somewhere in between deephouse and techno. Converging feeling and emotion into a pallet of natural grooves. Whether they deejay or perform live, these chameleons bring great adaptability to their sets and as a resident of the infamous Labyrinth club and hoster of Taka Tuka, they have the perfect homebase to do so.
www.labyrinthclub.be
Search Hotel
---
"David Mayer, Nico Morano and Timmerman. Taka Tuka by Kapibara" Party gemeld door : David Gorez