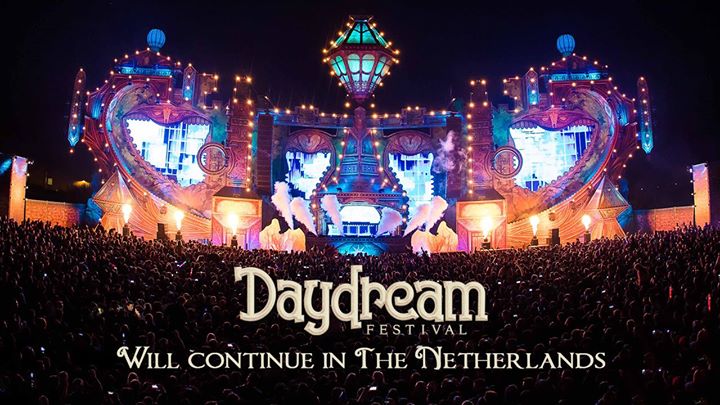 Daydream Festival The Netherlands ♥

Na 8 magische edities in België, gaat Daydream Festival verhuizen naar Aquabest in Nederland. Terug naar een perfecte droomlocatie, zoals we ooit begonnen zijn aan het Zilvermeer in Mol. Wij kunnen niet wachten om Nederland te laten dagdromen…
Ready to dream with your eyes open op 14 juli 2018?
Maindream :
KSHMR
Nicky Romero
Showtek
Sam Feldt Live
TONY JUNIOR
Mike Williams
Brooks
dj licious
Glen Dale
Robbie Rise

Claptone presents Masquerade :
Claptone
Format: B
Santé & Sidney Charles
Technasia
Ferreck Dawn
Theo Kottis
TOMAN

Bad Dream :
Brennan Heart
Frequencerz present Stealth Mode
Coone
Da Tweekaz
Ran-D
Endymion 20 Years (with Special guests)
Code Black
Hard Driver
Galactixx
Plug 'n Play
PLN-B
MC DL

Dream Bucket :
Jonna Fraser
LNY TNZ
Bizzey
The Darkraver B2B Outsiders
Freddy Moreira
Puinhoop Kollektiv
Lady Bee
TBND - The Boy Next Door
Badd Dimes
Phenleau
Loud 'N Bright

DAISY :
Daisy
David Ghetto
Team Rush Hour
Alamaison b2b Walter Looks
Chimp
Praia Del Sol
Joshua J
Fab X Paans
www.daydreamfestival.be
Search Hotel
---
"Daydream Festival 2018" Party gemeld door : Daydream Festival PRO