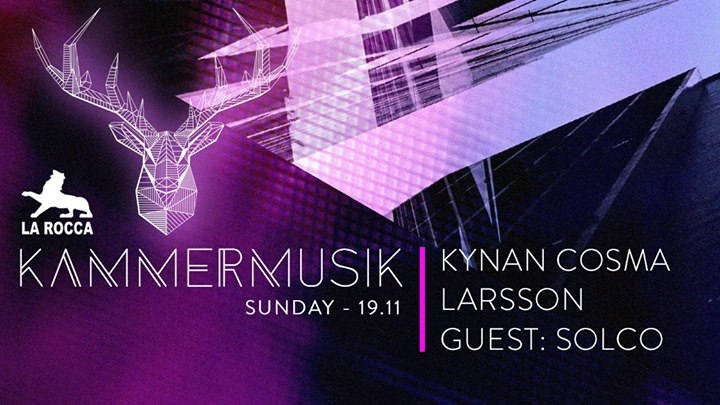 Kammermusik invites Solco
For our 5th edition of Kammermusik we are thrilled to have Solco as our guest DJ.

Curiously passioned about music, vinyl lover Mathias Sourbron started dj'ing at the age of 16 after falling in love with disco, funk & jazz music. Some years later, his music and his own productions under the moniker Solco switched towards Melodic Deep House and Techno.
His career took a steady flight, resulting in gigs on Belgium's biggest festivals like Tomorrowland, Pukkelpop and you could find him behind the dj-booth of almost every decent club in Belgium such as Café d'Anvers and Decadance. The Solco vibes were also spread abroad, with performances ranging from Spain (Bataplan), and Switzerland (Watergate) over Croatia (Carpe Diem Beach) to The Netherlands.
With his own tracks, he managed to sign releases on respectable labels like Jeremy Sylvester's Urban Dubz and the American White Beard. They were supported by Amine Edge, Sam Divine, ... and even got airplay on Belgium's biggest radio channels like Studio Brussel and Radio FG.
www.larocca.be
Search Hotel
---
"Kammermusik invites Solco" Party gemeld door : La Rocca PRO