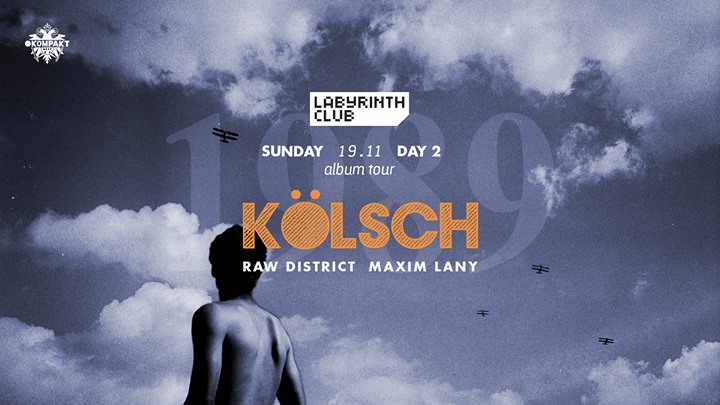 Techno, House
Zondag 19 November 2017, 22:00
20 November 2017, 6:00
Info
PRESALE starts WEDNESDAY 08/11 at 18h30 sharp
Due to many many requests for our sold out show on Saturday we decided to ad an extra day fo all the people who couldn't get their hands on one of the tickets. Our Saturday show was sold out in just an hour so make sure you'll be on time for this one!
Following on from the release of the third and final chapter in his autobiographical album trilogy on Kompakt, entitled '1989', Danish producer-DJ KÖLSCH reveals a string of international tour dates. The 1989 album tour begins in Miami on 27th October, and takes in Canada, Argentina, Brazil, the UK, France, Germany, Belgium, Italy, Australia and more before returning to the States for two final shows, first at New York's newest club Elsewhere on 15th December followed by Sound in LA on 16th December. For Danish Native Rune Reilly Kölsch, Kompakt is the "perfect label" to call "home." The much‐revered Cologne­‐based imprint released Kölsch's seminal LP '1977' in 2013, continuing a tradition of providing ground breaking and genre-­defining cuts. Kölsch's work proved to rewrite the rulebook on techno production, setting it on a melodic, emotion‐induced course. Kölsch returns to Kompakt this year with his long­‐awaited album '1983,' a veritable master class from one of techno's very best.
www.facebook.com/kolschofficial/
▦ Tickets PRESALE starts WEDNESDAY 08/11 at 18h30 sharp
www.labyrinthclub.be/tickets
▦ Table reservations mail to:
info@labyrinthclub.be
FOLLOW US
www.instagram.com/labyrinthclubhasselt
www.twitter.com/labyrinthclubbe
Wie zal er zijn?
---
Reacties » Kölsch 1989 album tour - Day 2