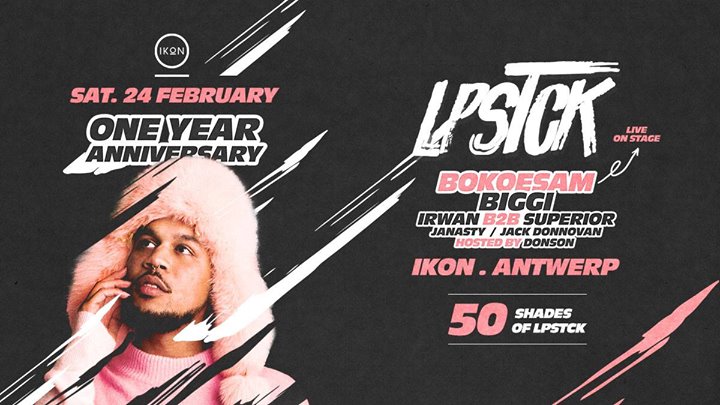 LPSTCK x 1 Year Anniversary
Op zaterdag 24 februari 2018 is LPSTCK na een geweldig 2017 terug in IKON Antwerpen

Na tal uitverkochte edities, met verschillende (top) artiesten pakken wij op zaterdag 24 februari 2018 weer flink uit. Het thema staat net als bij de eerste editie in het teken van FIFTY SHADES OF GREY want alweer de 3de editie komt in februari uit! Wat je kunt verwachten? Veel spannende gadgets, special acts, de beste DJ's/artiesten en natuurlijk de mooiste mensen!

Wil jij een VIP tafel samen met je vriendinnen of vrienden? Informeer naar de mogelijkheden via onze VIP hotline -> +31 6 36 49 49 33

We hanteren een streng deurbeleid en vragen je hier respect voor te hebben!



- Minimum leeftijd heren: 21+
- Minimum leeftijd dames: 18+
- ID verplicht!
- Kledingvoorschriften: fashionable classy
- Niet toegestaan: drugs, caps, sportkleding, wapens, ballonnetjes
- Geen groepen bestaande uit meer dan 4 jongens
- Portiers zijn bevoegd personen te weigeren bij twijfel van gemoedstoestand/attitude/kleding/leeftijd! Ook bij aankoop van een pre-sale ticket (dit geldt ook voor minimale leeftijd)!
- BOKOESAM (LIVE)
- BIGGI & ELTON JONATHAN
- IRWAN vs SUPERIOR
- JANASTY
- JACK DONNOVAN
- TICKETS = www.lpstck.eu
- Pre-sale regular ticket = EU 12,50 (excl. fee)
- Pre-sale late ticket = EU 14,95 (excl. fee)
- Pre-sale lady ticket (2 girls on 1) = EU 20,-
- Pre-sale Lady VIP ticket (no table) = EU 27,50 (excl. fee)
- Pre-sale VIP ticket (no table) = EU 35,- (excl. fee)
- DOORSALE = EU 20,-

www.ikonantwerp.com
Search Hotel
---
"LPSTCK x 1 Year Anniversary" Party gemeld door : Jan Kuyl