PollerWiesen Closing 2017 Zondag 13/08/2017 - Jugendpark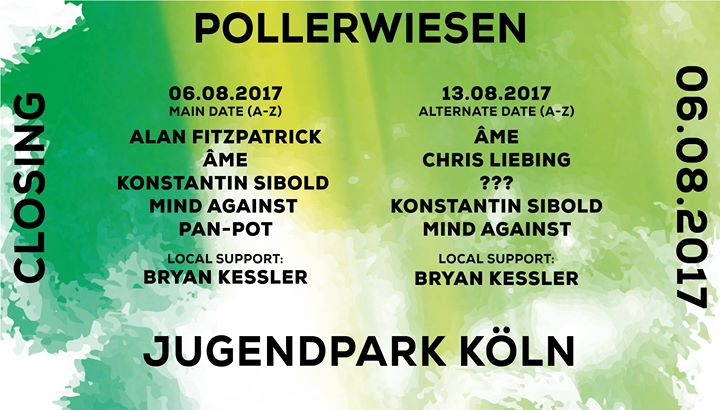 Techno, House
Zondag 13 Augustus 2017, 11:00
13 Augustus 2017, 21:00
Info
The PollerWiesen Closing will take place at Jugendpark Cologne on August 6th or in case of bad weather on August 13th.
The PollerWiesen Opening at Jugendpark Cologne and the PollerWiesen Boot Eins at MS Rheinenergie were totally sold out and also the PollerWiesen Festival at Revierpark Wischlingen was a great success. The end of the PollerWiesen season now comes closer and the PollerWiesen Closing is not far away anymore.
To guarantee the best weather conditions for the stunning finale of the PollerWiesen Season, one alternate date was set on August 13th. For both dates the PollerWiesen team is holding a selection of top DJ's:
Alan Fitzpatrick (only on 06.08.2017)
He is one of the most influential electronic artists of the moment. Alan Fitzpatrick knows how to move your mind, body and soul by delivering tracks that stand out from the norm. Tracks such as "We Do What We Want", "Love Siren", "Truant", "Skeksi" and "For An Endless Night" have all topped sales charts since 2009, drawing high praise from peers and tastemakers across genres for the vibrancy, originality and inventiveness that has come to characterize Alan Fitzpatrick's music. He's a regular guest at a long list of high profile clubs across the globe.
Âme (DJ)
Hits like "Rej" or "Howling" made Kristian Beyer and Frank Wiedemann popular. Since then, the deep-house scene can't be imagined without the DJ duo Âme. In 2005, they established their own label "Innervisions". At the PollerWiesen Closing Kristian Beyer will stand behind the decks and will play a melodic, atmospheric DJ set.
Chris Liebing (only on 13.08.2017)
Chris Liebing is one of the artists in the steadily and rapidly growing world of electronic music who has faithfully dedicated the past 25 years of his life to the performance, production, distribution and broadcasting of Techno on a global level. He has run a club and several successful club nights, has held residencies in many of the most prestigious venues worldwide, produced his own music and the music of other artists, founded record labels, hosted radio shows, won awards for different branches of his professional efforts and has been an unshakable pillar and devoted ambassador of innovative Techno.
Konstantin Sibold
He has already shown how to heat up the crowd at the PollerWiesen Festival. Konstantin Sibold worked to become a hot DJ of electronic music in 22 years.
He and his friend Leif Müller started their own event series in their hometown Stuttgart. In 2013 Groove magazine voted him to the "newcomer of the year". His DJ sets incorporate everything from techno and house to EBM, acid and indie stuff.
Mind Against
Mind Against is the project of Alessandro and Federico Fognini—two brothers born and raised in Milan, Italy. It all developed very quickly. After their first release 2013, two more 'Life and Death' releases followed soon thereafter which subsequently launched the pair into the spotlight, creating a global presence and culminating in a series of DJ bookings all across the European continent and beyond. The intrigue around the duo as artists, there has long been much interest in their sound—a deeply melodic and emotionally rich form of techno for which the Fognini brothers have become the world's finest ambassadors.
Pan-Pot (only on 06.08.2017)
Thomas and Tassilo met during study. Soon they realized they are on the same level.
Today they are performing as a duo at all important parties and festivals worldwide. The releases of a steady stream of original tracks and remixes on both Mobilee and
Einmaleins, each demonstrating the duo's commitment to precise, undulating and kinetic grooves accompanied by a steady expansion of their sonic palate.
The PollerWiesen team answers often asked questions at
www.pollerwiesen.org/faq
where it also offers information on how to get to the event.
Hard Facts
PollerWiesen Closing
Sunday, August 6th, 12pm-22pm
Alternate Date: August 13th 2017
Location:
Jugendpark Köln
Sachsenbergstraße
51063 Köln
Deejay's
06.08.2017
Alan Fitzpatrick
Âme
Konstantin Sibold
Mind Against
Pan-Pot
Bryan Kessler


13.08.2017
Âme
Chris Liebing
Konstantin Sibold
Mind Against
Bryan Kessler
Wie zal er zijn?
"PollerWiesen Closing 2017" Party gemeld door : sansunshine
---

572
Gelsenkirchen
Fan worden
Reacties » PollerWiesen Closing 2017