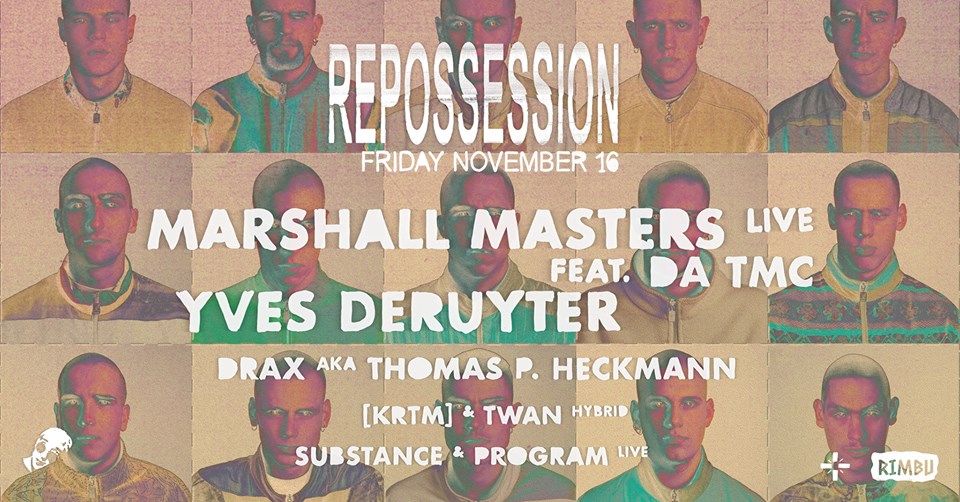 Repossession: The Second Ceremony
717A Ottergemsesteenweg-Zuid, 9000 Gent (BE)
Techno, House
In the late 80's and early 90's, a global revolution of a new underground music scene that focused on the raving experience appeared.

With some of the most influential electronic labels, artists and clubs of that time, Belgium was at the forefront of an era that created a platform for a new, exciting movement worldwide.

These last years we have been inspired by the return of this unrefined, straight forward, no bullshit approach of techno music.

Because of the hard work and dedication due to some local underground crews with the right state of mind pushing this music, a proper scene in Belgium has lifted from the bottom of the underground.

It's time to combine forces and take back our position in rave culture. And we know how it's done, since we were among the first to do so...
Marshall Masters aka Marc Acardipane live feat. da TMC
Yves Deruyter
Drax aka Thomas P. Heckmann (OFFICIAL)
[KRTM] & TWAN Hybrid
Substance and Program Live
www.kompassklub.com
Search Hotel
---
"Repossession: The Second Ceremony" Party gemeld door : EnriCa