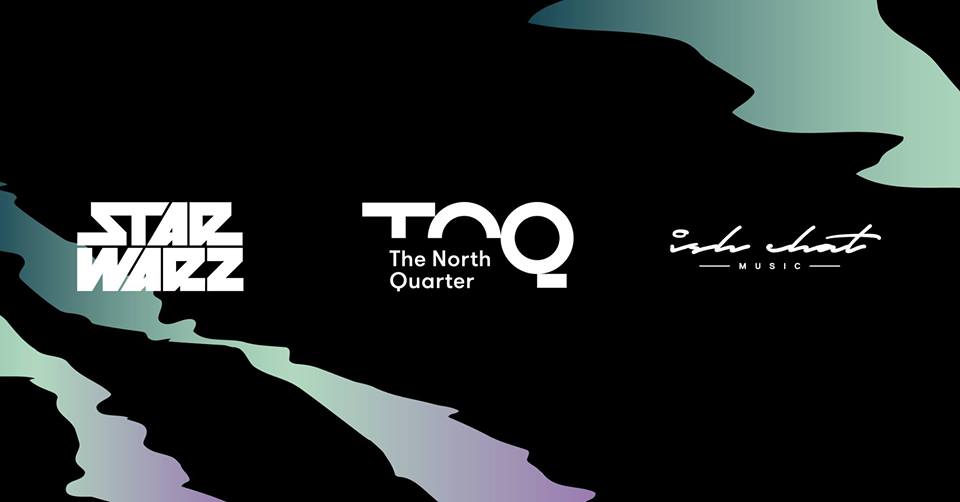 Star Warz presents The North Quarter X Ish Chat Music
After a wicked touchdown at the holy Tomorrowland, Star Warz is excited to go back to its home base: the beautiful Vooruit in Ghent. They are teaming up with the inspiring Drum 'n' bass labels The North Quarter and Ish Chat Music.

Metalheadz favourite and master of soulful drum & bass, Lenzman, launched his very own label, The North Quarter, in 2016. It was named after the area he grew up in. The imprint provides an outlet for those who "share a love and dedication for all things soulful." Sounds good to us!
The label isn't just about him. He puts out other people's music as he feels the soulful stuff is under represented in a way. "In the mid-2000s there was more of it about. I feel there are a lot of producers that I rate who are struggling to get love from labels. Having my own label gives me a platform to support them."


SpectraSoul founded their own label, Ish Chat Music, two years ago. The UK duo of Jack Stevens and David Kennett have been staples of the Shogun Audio roster for years, establishing their polished and melodic take on drum & bass (and beyond) over a steady stream of EPs and albums. With Ish Chat Music, named for a track from their first album, they're striking out on their own. "As artists, we have always written lots of different types of music," the duo say in a statement. "We wanted to create a vehicle to present some of those varied styles in a shorter format as opposed to an LP."

Prepare yourself for a wicked night!

ARTIST INFO:

Calibre
Dominick Martin aka Calibre has been responsible for some of the most beautiful tracks
in drum & bass to date and continues to drop jaws worldwide with his sublime and
sultry productions. From his first full length LP on Creative Source to present day,
Calibre's sound has progressed taking in elements of jazz, funk, dub and techno but
lost none of its soul. His influence in drum & bass has been profound yet Calibre
continues to evolve as an artist, exploring new techniques and styles in his music.
Having played all over the world from Belfast to Dunedin, Calibre certainly knows how to
captivate a crowd. His sets focus primarily on the deeper, more musical side of drum &
bass yet never disappoint the dancefloor. Artists and DJs from all corners of the electronic music spectrum constantly remark on Calibre DJ sets restoring their faith in Drum & Bass as a vital musical force.

Lenzman
Walking his own path as always and never dragged into following trends, Lenzman continues to highlight his strengths and interests: a strong ear for a sample and a musicality often unrivalled in Drum & Bass. His continuing work with vocalists and fellow musicians shows his love of grooves, ideas and hooks, an approach that sees his music in huge demand from fans, peers and both major and underground labels alike. After the release of his memorable debut album 'Looking At The Stars' with Metalheadz in 2014, Lenzman has taken the next step and launched his own imprint: The North Quarter. The highly personal project showcases his Hip Hop, Jazz and Soul infuences and sees him competently working with vocalist as well as like-minded producers.

SpectraSoul
Since their emergence in 2006, SpectraSoul have carved a truly unique position, not only in Drum & Bass, but electronic music as a whole. Having released music on only the very finest and most respected labels in the scene, from Goldie's legendary Metalheadz, to dBridge's boundary breaking Exit Records, and Kasra's ever progressive Critical Music, they went on to become vital members of Friction's irrepressible Shogun Audio imprint. Gracing clubs and festivals the world over, the global recognition of SpectraSoul's seductive production skills and achingly smooth mixing abilities has earned them their stripes as a truly treasured gem on the Drum & Bass and Electronica circuit.

Commix
Commix is the 170bpm creative home for George Levings and formerly Guy Brewer. Call To Mind holds the title of being the first artist album for historic label Metalheadz. The ambitious remix project titled Re:Call To Mind followed where a range of innovators were asked to reinterpret the tracks, remixers on the project included Marcell Dettman, Burial and Underground Resistance. In 2016 George Levings returns as Commix, with a renewed sense of purpose. There is a new backbone regarding the way the music is made; less samples and more hardware based creation with a focus on sound design. This year is going to be a rousing year for Commix, new music has been scheduled for Metalheadz with the sophomore album already in the works. Exciting times for all concerned!

FD
A musical maven with deep roots in London's underground club scene, FD joins the dots between Jungle, Techno, 2-step, Drum & Bass and beyond in his own inimitable style. Moods and grooves characterise his productions and the same open-minded approach to DJing has seen demand for sets across the UK & Europe, including appearances at Fabric and Sardinia's SUNANDBASS festival.
Releasing on leading labels like The North Quarter, Soul:R, SUNANDBASS and Metalheadz, he's already collaborated with a range of respected producers including Lenzman, Ulterior Motive and Fracture. With plenty more material in the pipe for 2018, he's looking forward to another busy year.

DRS
DRS works across different disciplines: music, film and art. His success as an artist boils down to his refusal to speak on anything other than his truths, something that listeners can identify with, this is highlighted by three award wins at the Drum & Bass awards: Best MC, Best Vocalist and he featured on the Still Standing Remix which was awarded best remix. He is the go-to host for some of the finest that electronic music has to offer, from Calibre to Toddla T.

Mc LowQui
Mc LowQui is a genuine host, wordsmith, and audience entertainer. Regarded by many as a true DJ's MC, his ability to read crowds, compliment mix structures, and facilitate the transfer of energy between DJ and audience is second to none. Now deep into his second decade of the craft, LowQui has worked on a global scale as MC of choice for: Goldie, S.P.Y, Andy C, DJ Marky, Black Sun Empire, dBridge, and as a regular at Metalheadz and Hospitality events. In the game for life, LowQui will be toasting microphones until the end of his days.

Dan Stezo
2018 is looking bright for Dan Stezo. As a part of acclaimed Dutch Drum and Bass producer Lenzman's The North Quarter imprint, Dan's prowess, unique style and approach are finding ways to new stages and listeners worldwide. Lyrically Dan Stezo developed a characteristic style. Positivity and open-mindedness as the core to his approach. Stylistic reminiscent of Hiphop's 90s and a chosen few Drum and Bass MC's as inspiration. With earlier releases on the most seminal imprints such as Metalheadz and Hospital and Vandal collaborating with the likes of Redeyes and Hugh Hardie, Dan Stezo has carved out a unique position in the soulful quarters of the Drum and Bass spectrum.

One87 & MC Mush
Resident One87 will obviously also be present and do what he does best, give the Star Warz fans exactly what they came for: edgy and full on Drum 'n' Bass at its best. And MC Mush will perfectly join him on that graveyard quest. Together or apart, they played at clubs and festivals all over the country and beyond. However, most legendary are the traditional graveyard sessions at their home base: the Star Warz nights in Ghent, Belgium.

Blind Judge
Vienna based DJ and CONTRAST resident Jacques Singer aka Blind Judge is unstoppable. At a young age he got into Drum & Bass and developed a great love for the genre itself and the art of DJing. The tireless perfection of his skills as a DJ paid off in 2014, when the newcomer won the Outlook Festival Launch Party - Mix Competition and shortly thereafter became a resident at CONTRAST. Since then, he regularly plays alongside top national as well as international artists in the most prestigious clubs in Europe and at the biggest Drum & Bass festivals in the world, like NuForms, Let It Roll and Outlook Festival.
Sikey & Speedwagon
After long solo carreers as DJs and promoters, Sikey & Speedwagon recently joined forces on the production front. These two veterans in the Belgian scene now have (forthcoming) releases at Fokuz, Celsius, RSTLSNS (Innerground) and Space Pirate Recordings...
Their style could be described as liquid, funky, dubby, oldskool tainted and got very satisfying feedback major players in the scene such as LSB, Random Movement, Digital, Spirit, Zero T...
Calibre
Lenzman
Spectrasoul
Commix
FD
DRS
Mc Lowqui
Dan Stezo
One87
Mc Mush
Blind Judge
Sikey
Speedwagon
www.187-dnb.com
Search Hotel
---
"Star Warz presents The North Quarter X Ish Chat Music" Party gemeld door : EnriCa