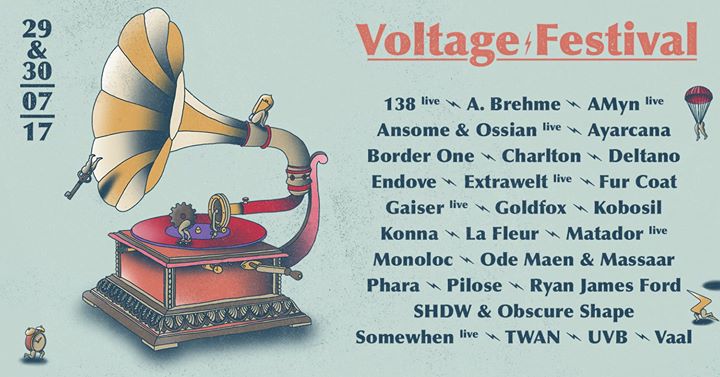 Techno, House
Zaterdag 29 Juli 2017, 13:00
30 Juli 2017, 23:59
Info
With a nomination for 'Best Breakthrough Festival' on the Red Bull Elektropedia Awards and hosted on one of the most unique festival stages in Europe, Voltage Festival is completely ready to become part of the bigger festival players in Belgium with this third edition. For the first time, Voltage Festival, which takes place on the mighty Transfo site in Zwevegem, will be presenting 2 full-blown festival days. You will be able to attend on both Saturday, July 29th and Sunday, July 30th and will find two fully fledged stages with an advanced program of both international stars as well as local talent.
Voltage Festival is a production of Ohm VZW, a team formed by event-managers, Dj's/producers, sound and light engineers and a graphic designer. With about eight successful events per year since 2012, the organization has become a steady value in the world of electronic music. For the festival, they set their sights on the former, impressive electric plant Transfo, in Zwevegem in the West of Flandres: a place that speaks to the imagination of many because of its look, history and character. Transfo is also the setting of the popular series 'Bevergem' from 2014, currently being re-aired on national tv station Eén.
The completely sold-out first edition attracted more than 1000 visitors and there was no doubt, the festival knew a great start with Fuzz Magazine calling it 'a direct hit in quadrat'. In 2016 the festival grew further and started to get international acclaim with visitors from 5 different countries. Their philosophy remained the same. First of all, create an original program. And secondly, fully use the unique character and industrial atmosphere of the location which is clearly very different from the many meadows and recreational areas where other festivals are held.
Voltage 2017 will feel very familiar but will also be very different on many levels. After two years, they are considered one of the most promising festivals that have recently arisen. Now is the time to cash in on that reputation. That's why they are launching two full-blown festival days for the first time. The pre-party on Friday will be replaced by a complete festival day on Sunday. Next to that, they won't be going on till 4 o'clock in the morning anymore but you will be able to dance on both days from 13h.00 till 23h00. The festival grounds will be made smaller and the number of stages reduced from four to two. The mainstage, under the electrical power network, will become a lot bigger and will become the eye catcher this year. In 2016 it was introduced with great success and immediately bombarded to one of the most unique stages in the festival-world.
This year the stages will be hosted by well loved concept as Ohm, Rimbu, the German 'From Another Mind' and Cultus, a side project from Ohm that's more focused on house. The first headliner was revealed through a unique game on Instagram. It immediately set the tone for Voltage Festival : an event where the connection with the public is essential! In the meantime, they have released the complete program and for those who know, it is one that's finger-licking good. Public's favorites as Extrawelt from Sven Väth's Cocoon family or John Gaiser and Matador from Richie Hawtin's M-nus label and on top of everything, all three fully live, will get accompanied by well known and up and coming talents from abroad and close by.
You can expect more spectacular and unique assets shortly! Combined with the beautiful program and location, you can rest assured: Voltage 2017 will be not-to-be-missed! You can find the complete line-up under here. Presale started last month and the first wave of tickets flew out the door. The second wave is now running smoothly so get your ticket while they last and let the anticipation to Voltage 2017 begin!
PRACTICAL:
Dates & times:
Saturday, July 29th from 13h00 till 23h00
Sunday, July 30th from 13h00 till 23h00
Camping: from Saturday, 29th @ 11h00 till Monday 31st @ 14h00
Location:
Transfo, Blokellestraat 113, 8550 Zwevegem
Tickets:
Day-tickets : 29€ / day
Weekend: 49€
Camping : 15€
https://voltagefestival.com/tickets
LINE-UP:
◥ Saturday - 29.07.17
ϟ Anode hosted by RIMBU
138 (live), Ansome & Ossian (live), Ayarcana, Charlton, Phara, TWAN, UVB
ϟ Turbine hosted by CultUS
Deltano, Endove, Fur Coat, Konna, La Fleur, Vaal
◥ Sunday - 30.07.17
ϟ Anode hosted by Ohm
AMyn (live), Extrawelt (live), Jon Gaiser (live), Goldfox, Matador (live), Ode Maen & Massaar, Pilose
ϟ Turbine hosted by From Another Mind
A. Brehme b2b Border One, Kobosil, Monoloc , Ryan James Ford, SHDW & Obscure Shape, Somewhen (live)
Deejay's
138 (live)
Ansome & Ossian (live)
Ayarcana
Charlton
Phara
TWAN
UVB
Deltano
Endove
Fur Coat
Konna
La Fleur
Vaal
AMyn (live)
Extrawelt (live)
Jon Gaiser (live)
Goldfox, Matador (live
Ode Maen & Massaar
Pilose
A. Brehme b2b Border One
Kobosil, Monoloc
Ryan James Ford
SHDW & Obscure Shape,
Somewhen (live)
Wie zal er zijn?
"Voltage Festival 2017" Party gemeld door : sansunshine
---
344
Zwevegem
Fan worden
Reacties » Voltage Festival 2017