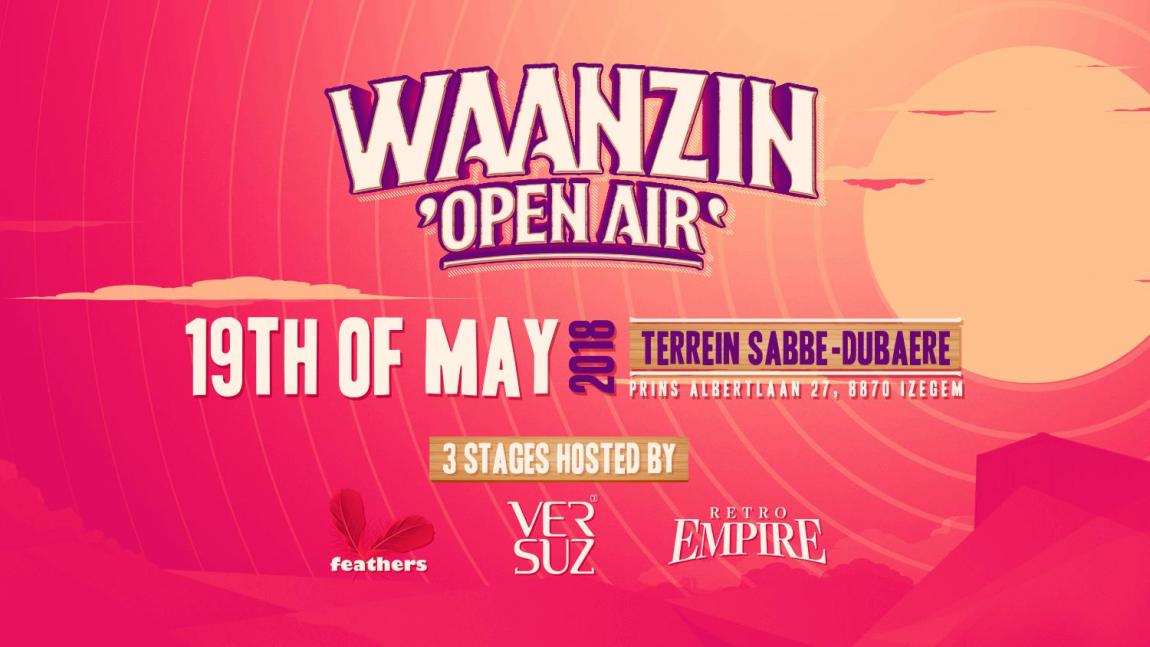 27 Prins Albertlaan, 8870 Izegem (BE)
Techno, House
Ladies and gentlemen! Boys and girls! Step right up, step right up!

Allow us to invite you to the wondrous realm of Waanzin! An enchanted world where nothing is what it seems,
a world only seen in dreams. Watch as mysteries unfold of stories untold while you witness the spectacular wonders we hold. Days will turn into nights as we take you to new heights, unparalleled adventures await behind our gate.

Why don't you enter and seal your fate?!


Join us for the first edition of Waanzin Open Air in Izegem. 19th of May 2018 at Terrein Sabbe-Dubaere. With 3 stages hosted by Versuz, FEATHERS EVENTS & Retro Empire.

WHEN?

Saturday 19.05.2018

WHERE?

Site 'SABBE-DUBAERE'
Prins Albertlaan 27
8870 Izegem

★ PARTY LIKE A VIP

- VIP parking
- Separate entrance
- Separate toilets
- Access to VIP platform
- Bottle service
- Finger food
- 10 EUR Foodtokens

★ WEBSITE:

www.waanzinopenair.be

★ AGE LIMIT

Waanzin Open Air is 18+, ID will be checked.
★ VERSUZ STAGE

⦿ DJ LICIOUS
⦿ SEM THOMASSON
⦿ PETER LUTS
⦿ MARK URSA
⦿ DAVE LAMBERT
⦿ MAORI
⦿ YAMO
⦿ LESTER WILLIAMS
⦿ 5NAPBACK
⦿ DENNIS CARTIER
⦿ BLVCKPRINT
⦿ SAKSO
⦿ GRAMAPHON
⦿ SHURAKANO


★ FEATHERS STAGE

⦿ DADDY K
⦿ MYSTIQUE
⦿ R-WAN
⦿ MEGAMEN
⦿ F.R.A.N.K
⦿ ZOEY HASSELBANK
⦿ DYSFUNKSHUNAL
⦿ DJ VIDE
⦿ MADDIS
⦿ JAY BAKER
⦿ FRE

★ RETRO EMPIRE STAGE

⦿ BONZAI ALL STARS
⦿ YVES DERUYTER
⦿ DJ GHOST
⦿ FRANKY KLOECK
⦿ YOURI PARKER
⦿ BOUNTYHUNTER
⦿ JAN VERVLOET
⦿ JAMIE DILL
⦿ BPM
⦿ DJ STEF
★ TICKETS:

⦿ EARLY BIRDS (20 EUR ex. fee)
⦿ REGULAR TICKETS (25 EUR ex. fee)
⦿ VIP TICKETS (75 EUR (ex. fee)

⇒ Online:
www.WaanzinOpenAir.be

⇒ Offline:
't Baguetje Izegem
All FNAC Outlets
Brooklyn stores
www.waanzinopenair.be
Search Hotel
---
"Waanzin Open Air 2018" Party gemeld door : Marlien Vervaeck